The Trillium Team is a locally owned real estate company that has been servicing the needs of buyers and sellers in the area for over 30 years. We are comprised of a team of knowledgeable, friendly, and helpful realtors who are committed to providing our clients with the best possible service. We have a deep understanding of the local market and are familiar with all of the available properties in the area. We will work with you to determine your specific needs and wants in a new home or cottage, and we will then scour the market to find the perfect match for you. We will be by your side every step of the way, from negotiating the purchase price to researching the best financing options to helping you find suitable moving services. When you work with Trillium Team, you can rest assured that you are in good hands. We have a proven track record of success, and we are dedicated to making your home buying or selling experience as smooth and stress-free as possible.
Now that you know what we offer, we want to share a bit more about us. It's time to meet the team!
Anthony vanLieshout, Broker of Record, CRA
Anthony started his real estate career in the mid eighties in Toronto. In 1995 he returned to Haliburton with his wife Juliane and their 3 children to manage an established family real estate business. Anthony holds a Broker's license and has earned numerous awards and the designation of Canadian Residential Appraiser.
Marcia Bell, Sales Representative 
Marcia is a long time resident of Haliburton. Born in Minden, she is the daughter of Garry and Kathy Burk of Haliburton, and proud mother of Zak and Lacy and wife to Steve. She loves the outdoors, camping, hockey and watching her children grow into young adults.
Chris James, Sales Representative
Chris James, husband of Cher and father to many cats and dogs, received a diploma in Fish and Wildlife Technology from Sir Sandford Fleming in the early 1990's. Career paths eventually led Chris to Barrie where he was the branch and accounts manager for a distribution company. In 2004, wanting to explore new challenges, Chris eventually left the job and the city to become a real estate professional and a permanent resident of the Haliburton area.
Erin Nicholls, Sales Representative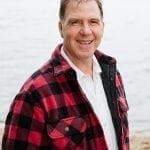 Erin has been a Sales Representative in the area since 2000 and prides himself on being a home town professional, with extensive knowledge of the Haliburton area and the many lakes the Highlands have to offer. Between the combination of this expertise and his personality, you will find Erin to be a great assistance and a pleasure to work with when helping you purchase your dream home/cottage or selling.
Chris Smolarz, Sales Representative
Chris has been with Royal LePage in Haliburton for over 20 years and loves what he does. Having lived in Guelph, he decided that moving back to his wife Michelle's home town seemed the best place to raise a family and enjoy life. Haliburton has so much to offer for all ages and Chris would like to show you the life that some only vision of becoming reality.
Now That You Know Us, Contact Us!
This blog will have hopefully have helped you get to know us, as well as what we have to offer our amazing community. Please feel free to contact us for any of your real-estate needs!
📞705-935-1000
📧info@trilliumteam.ca
💻www.trilliumteam.ca